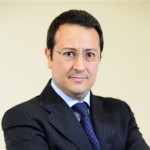 Stefano Buschi è Partner di Deloitte ERS e Responsabile per l'Italia dei Cyber Risk Services di Deloitte.
Con 13 anni di esperienza nel campo della consulenza strategico-organizzativa, Stefano ha supportato attivamente Primari Governi e Organizzazioni private Internazionali, conducendo complessi programmi di sviluppo, riorganizzazione e trasformazione dei modelli sicurezza e di resilienza delle infrastrutture critiche Europee.
Stefano nel corso della sua carriera professionale ha maturato significative esperienze nella gestione del rischio, della information security, della business continuity e del Crisis Management in particolare, nei settori energia, Manufacturing, trasporti e Aerospace & Defence.
È laureato in ingegneria Gestionale presso il Politecnico di Milano e ha completato con successo un MBA presso la SDA Bocconi di Milano con un programma di specializzazione presso The Anderson School at UCLA (CA).
È membro del Critical Infrastructure Protection (CIP) Expert Group Europeo, Certified International Professional presso l'Institute of Risk Management (UK), Certified Business Continuity Professional e istruttore certificato del Disaster Recovery Institute International (US).