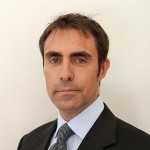 Nato a Neuilly-sur-Seine (Francia) nel 1971, è laureato in Legge e Scienze Forensi e ha conseguito un DEA (Diplôme d'études approfondies) in Scienze Politiche.
Dal 1992 al 1995 presta servizio nell'esercito francese presso l'École spéciale militaire de Saint-Cyr & Royal Military Academy Sandhurst (RMAS) nell'ambito dell'area Army Signal.
Tra il 1995 e il 2007, è Ufficiale Superiore della Gendarmeria e lavora presso École de guerre e l'Istituto Diplomatico e Consolare del Ministero degli Affari Esteri.
Nel 2007 è scelto da Telecom Italia come Responsabile della gestione della sicurezza dei sistemi e dei processi e nominato Vicepresidente Security Cross Processes and Projects. Nel 2009, fermo restando l'incarico in Telecom, collabora con l'ENISA (European Union Agency for Network and Information Security) in qualità di esperto di European Public – Private Partnership for Resilience (EP3R).
Dal 2009 è docente di Business Intelligence nel Master in Criminal Science and Security Technology presso l'Università Cattolica di Milano.
Nel corso della sua carriera militare ha ricevuto diverse onorificenze: Citation à l'ordre de la Division – Croix de Guerre T.O.E., Croix du Combattant, Médaille de Reconnaissance de la Nation – Opérations Extérieures, Médaille Commémorative d'ex-Yougoslavie, Médaille d'or de la Défense Nationale, Médaille de l'OTAN.
È chiamato in Rai nel 2016 in qualità di Chief Security Officer con la responsabilità della Direzione Security and Safety.