L'avvento del Cloud Computing ha trasformato negli ultimi anni i tradizionali modelli di IT service delivery mettendo a disposizione delle aziende livelli superiori di flessibilità, scalabilità dei servizi, disponibilità degli stessi. Il nuovo trend del MULTI-CLOUD rappresenta un ulteriore passaggio verso infrastrutture con cloud pubblico e privato più mature, in grado di rispondere a tutti i diversi Business Need dell'azienda, orchestrando le diverse scelte per ogni singolo workload, riducendo i rischi di "lock-in" e di disservizio legati alla scelta di un solo provider.

L'adozione di un ambiente IT Multi-cloud implica però anche un ripensamento del modello di cloud management e dei relativi strumenti di gestione, per mantenere il controllo su cloud privati, pubblici e ibridi.
Ne abbiamo parlato nel corso del Webinar "LA NUOVA ERA DEL MULTI-CLOUD, Quale Multi-cloud per compliance, risparmio, efficienza" dello scorso 24 gennaio 2019, organizzato da Exclusive Networks e Nutanix in collaborazione con The Innovation Group.
Roberto La Verde, Technical Director & CTO, Exclusive Networks Italia, ha fornito nel corso del Webinar una panoramica delle caratteristiche del cloud, focalizzandosi sulle metriche di costo e sulle principali sfide connesse all'suo del cloud, mentre Christian Turcati, System Engineer Manager, Nutanix Italia, ha parlato dei vantaggi di un Enterprise Cloud, e di come impostare al meglio una governance multi-cloud. Elena Vaciago, Associate Research Manager, The Innovation Group, facendo riferimento alle survey di TIG, ha mostrato come gli investimenti in servizi cloud sono oggi trasversali, riguardano tutti gli ambienti aziendali, e come in prospettiva andranno ad aggredire quote sempre più importanti della spesa dedicata a infrastrutture tradizionali.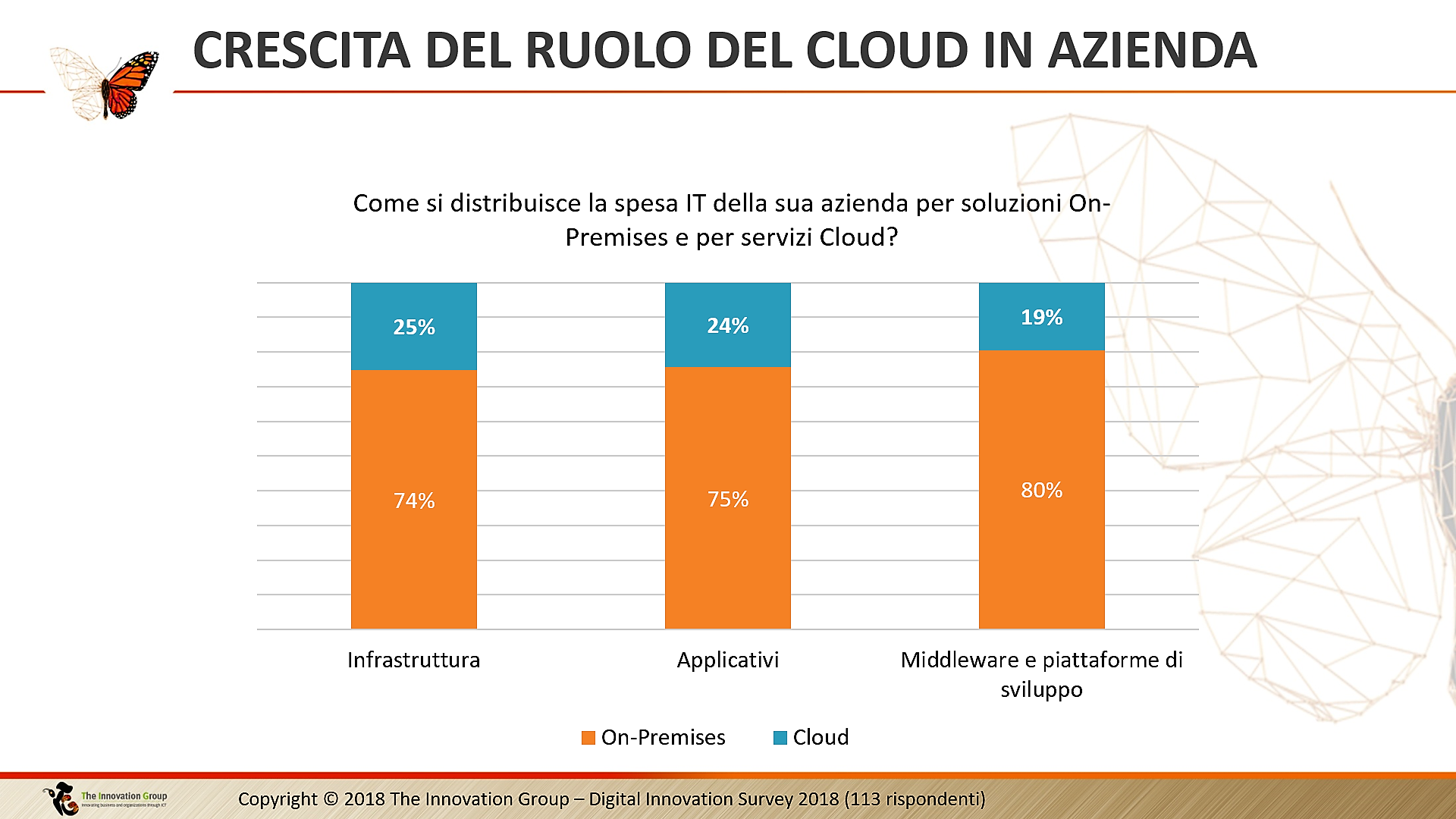 Oltre ad approfondire il tema di una gestione ottimizzata di ambienti Multi-cloud, ossia con servizi e applicazioni online presso molteplici cloud provider, ha commentato il fenomeno dello Shadow IT, che è stato misurato chiedendo direttamente ai Business Manager qual è la loro spesa in ICT, indipendentemente dalla funzione IT.
Per visualizzare il Webinar completo: